Dovetail slides can also be known as dovetail ways. They consist of a permanent base into which the tenon interlocks but can still slide and a saddle, which is the moving part. Dovetail slides are direct contact systems in which the sliding area is regarded as the dovetail slide's bearing system. Dovetail slides are perfect for heavy-load applications and industrial purposes because of their extensive surface contact. Dovetail slides take more force to move the saddle than other systems, resulting in slower acceleration rates. The base and saddle make direct contact as opposed to indirect contact, as with ball-bearing and roller-bearing slides. Read More…
Dovetail Slides
A dovetail slide, or dovetail way slide, is the simplest type of linear slide and has a dove-tail shaped, or v-shaped channel used to lock the linear rails and allow for movement along the channel.
When describing Tusk Direct, a linear slide distributor, products such as linear motion components, roller tables, ball & crossed roller slides, dovetail slides, bushings, multi-axis positioners & motor ready lead screw actuators, come to mind. Our linear slide products (subminiature - heavy duty) offer high accuracy & long travel available. Same day shipment, life-load calculators, cad drawings.
$$$
Velmex makes precision manual and motor driven positioning equipment for science and industry. Used for work-holding fixtures, scanning, feeding, gauging and measuring distance. Includes low-friction dovetail slides, twin rail slides, X-Y tables, micropositioners, rotary tables, elevating tables, linear bearings, turntables, computer controlled multi-axis slide systems for scanning and...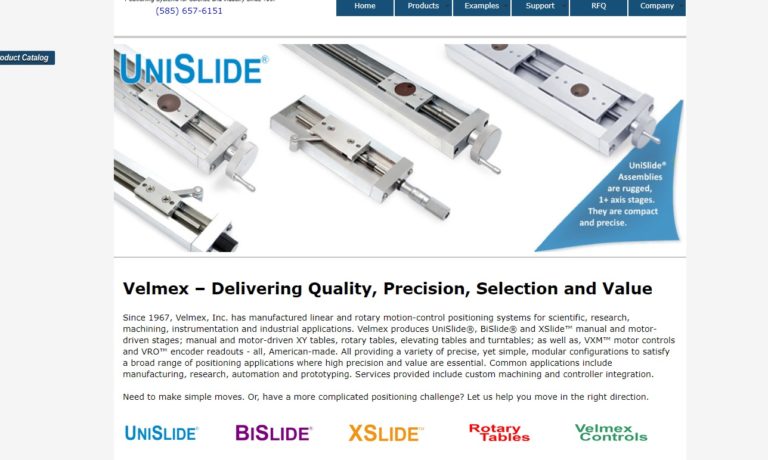 $$$
Get Your Company Listed
How Dovetail Slides Work
The moving part of the system is secured into the V-shaped groove and makes direct contact with the load in a dovetail slide. Dovetail slides can hold and move a bigger load because their surface area is often larger than a ball-bearing linear or roller slide. A dovetail slide is typically not utilized for high cycling but rather placement. The dovetail's angles make it simpler to secure a slide into place. A dovetail is an excellent choice if one wants to position anything and lock it tightly. Several sectors use dovetail slides, including but not limited to medical, automotive, metrology, and inspection fields.
Dovetail slides can support loads in any direction, like crossed roller and profiled rail slides. However, because of the geometry of the dovetail design, lower weights can be supported to a greater extent than upward loads. In addition, a dovetail slide's sizing is as simple as evaluating the dynamic and static loading on the bearing to the slide's capacity ratings because there are no rolling parts in a dovetail slide.
Consider the distance and rate of linear motion, the required maximum linear velocity of the positioning carriage, the dynamic load carrying capacity, and the quantity of follows per revolution of the screw when choosing a specific type of dovetail slide. Locks, brakes, and clutches that can smoothly change speeds are some of the extra features that some dovetail slides may offer.
Construction and Main Parts of a Dovetail Slide
Base and Saddle
Although various materials may be used, the base and saddle are typically built from close-grained cast iron that has been thoroughly normalized to reduce distortion. After assembly, the saddle and base are machined and ground parallel on the top and bottom surfaces to provide a flat, precise mounting surface after assembly. In addition, the saddle and base may be drilled, tapped, or machined to meet specific mounting and fixturing needs.
Lubrication Fittings
Lubrication fittings are typical on all, but the most basic dovetail slides for lead-screw-driven axes because lubrication is essential for quick but accurate dovetail slide operation. The slides' drilled passageways allow lubricant to reach the working path surfaces, which reduces friction and increases life. The conventional passage fittings on some slides can be removed to make room for the meter fittings of automatic lubrication systems. To assist engineers in determining the lube area or quantity of lubrication a slide needs, suppliers publish charts and formulas. The application has a role in lubrication requirements.
Gib
A gib is a machined plate made of metal or another material used to hold other components in place, provide a bearing surface, or offer a way to deal with looseness. The user can change the distance between the surfaces.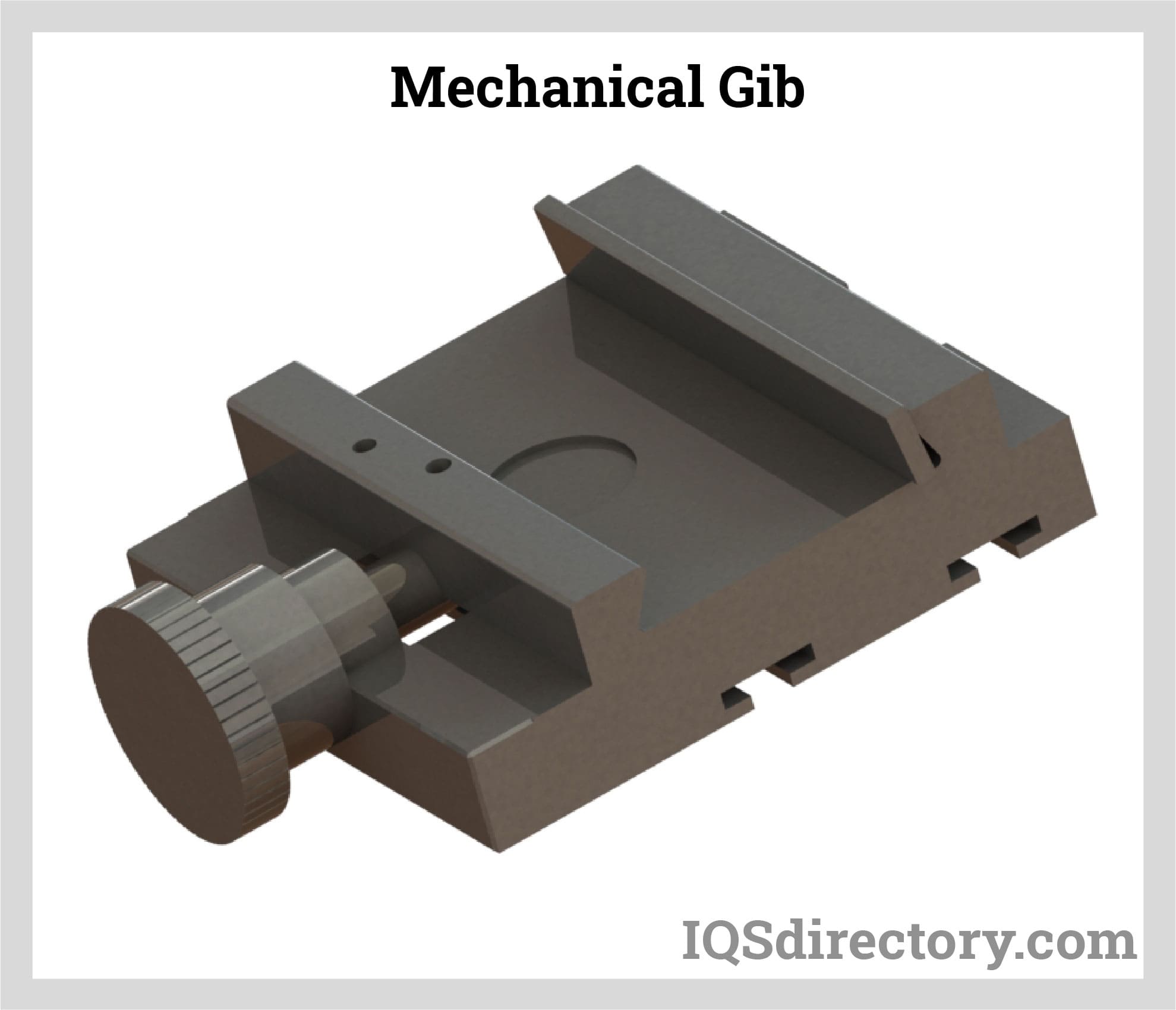 Gib Screws
Along one side of the saddle are several socket-head screws for adjusting the gib.
Screw Nut
The gib-screw nut keeps the gib-screw in place. Similarly, a gib lock handle enables users to hold the saddle in a certain position.
Types of Dovetail Slides
There are typically two styles of dovetail slides.
Low-Profile
Low-profile variants are best for general use with moderate loads and stiffness requirements since they have thinner bases and saddles.
High-Profile
The thicker bases and saddles of high-profile variants increase their rigidity against deflection.
Advantages of Dovetail Slides
It is mechanically robust, offers a respectable amount of glue surface, and is simple to machine.
Dovetail slides enable precise movement and tooling location for specialized machines and product lines while providing machine builders and users with straightforward solutions.
Typically, the close-grained cast iron base and saddle of the slides are normalized to prevent deformation.
Dovetail slides often have extensive contact areas because they are made to assure precise, slick, and dependable functioning. Due to the large contact surface, they have stronger rigidity and load-carrying capacity than other slides.
Dovetail slides provide unparalleled precision for metal tooling and cutting. These slides are made for smooth operation, keeping the metal clean and free of bumps, and they make it easier to manage machine movement.
These kinds of slides can also be counted on to be durable. They are made from steel, cast iron, and other strong metals to ensure better performance and longer working lifetimes.
Dovetail slides come with precision, durability, and a lot of versatility. In addition, they are simple to drill, tap, or mill to satisfy many different mounting needs.
They can be used in many places and positions to meet any production line requirements because of their versatility.
Due to their efficiency and simplicity, these slides are a very affordable solution. Due to their endurance, there is minimal to no metal waste, and they require very little maintenance. As a result, facilities can reduce waste, maintenance, and overall product costs.
Choosing the Proper Dovetail Slide Manufacturer
To make sure you have the most productive outcome when it comes to purchasing dovetail slides from a dovetail slide manufacturer, it is important to compare at least four manufacturers using our list of dovetail slide companies. Each dovetail slide manufacturer has a business profile page that highlights their areas of experience and capabilities and a contact form to directly communicate with the manufacturer for more information or request a quote. Review each dovetail slide business website using our proprietary website previewer to get an idea of what each company specializes in, and then use our simple RFQ form to contact multiple dovetail slide businesses with the same form.
Dovetail Slides Informational Video