A roller table is a piece of high-precision equipment often moved by electrical or mechanical driving mechanisms, allowing massive loads to be moved with ease. Another synonym of roller tables is positioning stages, defined as motorized linear slides with precise rail sets supporting cumbersome loads at low friction. Read More…
Roller Tables
The requirements for positioning systems can be complicated and demanding. They require precision, ruggedness, and cost effectiveness while remaining capable of performing in difficult and stressful conditions. In essence, positioning systems provide low friction precise movement for a wide assortment of loads.
What is a Roller Table?
Due to the high accuracy demanded when using roller tables, they are manufactured to withstand heavy loads, pull or push, and to be highly accurate.
They consist of an attached moving carriage and a linear base. Roller tables have roller slides with single or multiple axes with tables and shafts to maximize direction and control.
Roller tables are well known for their exceptional capability to carry loads and high accuracy. Roller tables are customarily designed based on load capacity, material, freedom of movement, and size of the intended use.
How Roller Tables Function
Roller tables consist of two or more slides enabling them to carry heavy loads. A screw drive is placed between the platform and base, creating a motorized linear slide. The slides consist of a moving platform and a base that allows manual movement with a secure locking mechanism.
The platform houses roller bearings that allow low friction between the linear rails and the table or platform. Most use bearings; cylindrical bearings produce the least amount of mechanical noise.
Roller Tables Installation
A roller table has various ways in which it can be mounted in X, XY, or XYZ configurations in multi-axis linear position and motion. Shock absorbers or rubber bumpers are used to stop the slide table, and stroke adjusters can be used for precision positioning.
To reduce errors associated with the system, air-bearing slides for roller tables can be installed where there is pressurized air controlled between the platform and the base.
A roller cage can be installed on the table to help prevent slips during movement and balancing loads. In some installations, shields and covers are attached to prevent dust from penetrating the sliding base and platform, hindering motion.
Types of Roller Tables
The different types of roller tables include:
Low Profile Roller Tables
Low-profile roller tables are highly accurate slide tables with adjustable preloading. They can withstand force in all directions due to the crossed rollers at an angle of 45 degrees. Low-profile roller tables have a straight line accuracy of 0.0001 inches per 1 inch (or 0.0025 mm per 25 mm) travel.
Heavy Duty Roller Tables
Heavy-duty roller tables are used to lift heavy packages and cartons. They are useful in the setup of conveyor lines in shipping departments, assembly areas, and warehousing activities.
They comprise hex-shaft axles for additional capacity and strength, variations of curves such as 30, 45, 60, and 90 degrees, and couplings bolted together for connections.
Crossed Linear Rails Tables
These roller tables provide greater control and precision with the capability of carrying high loads. Crossed linear roller tables can be found in steel construction and other choices for application design. Mounting holes in aluminum crossed roller tables are available in metric and inch mounting.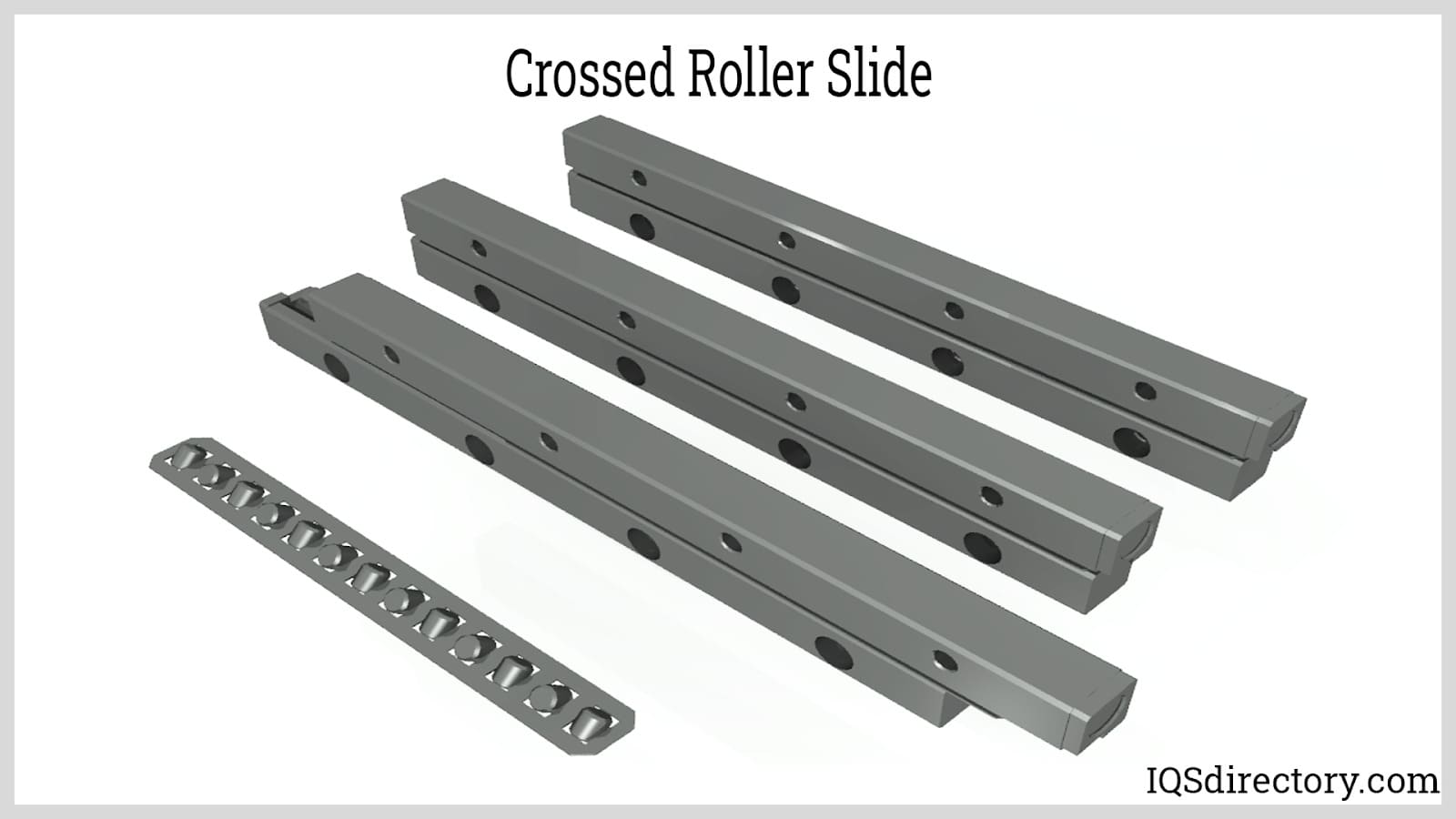 In cases of high acceleration and deceleration or vertical application, there is a need to consider anti-creep crossed tables. Roller cage and rail design take care of roller cage slippage or migration in high vertical applications and speed.
Crossed linear roller tables are factory preloaded and ready to install. They provide extremely precise linear motion with relatively low friction by using crossed roller bearings.
Applications and Benefits of Roller Tables
The applications and benefits of roller tables include:
Applications of Roller Tables
Roller tables are used in:
Fiber optic systems
Material handling industries
Industrial automation equipment
Benefits of Roller Tables
A roller table is a cost-efficient method of moving equipment and a cheaper way of improving the efficiency of a system within an operation.
Simple design manufacture and operation
Moves heavy loads using very small power output
Have high accuracies: 0.0001 inches per 1 inch (0.0025 mm per 25 mm) with loads of 2600 lbs (1179 kg) and excess
Lightweight
Ready for installation from the box due to factory preloading
Choosing the Right Roller Table Manufacturer
To ensure you have the most positive outcome when purchasing roller tables from a roller table manufacturer, it is important to compare several companies using our directory of roller table manufacturers. Each roller table manufacturer has a business profile page highlighting their areas of experience and capabilities, along with a contact form to directly communicate with the manufacturer for more information or request a quote. Review each roller table company website using our patented website previewer to quickly learn what each company specializes in. Then, use our simple RFQ form to contact multiple roller table companies with the same form.
Roller Table Informational Video