These are types of linear slides that utilize cylindrical rollers to carry the load. When an application requires a linear guide with a high load capacity, good travel accuracy, and high stiffness, the range of suitable products is typically narrowed down to roller slides. Read More…
Roller Slides
Roller slides are a type of linear slide system used to provide ease of movement for equipment or machinery, and are typically characterized by aiding in smooth, low-noise motion with minimal slippage and a long lifespan.
What are Roller Slides?
These are types of linear slides that utilize cylindrical rollers to carry the load. When an application requires a linear guide with a high load capacity, good travel accuracy, and high stiffness, the range of suitable products is typically narrowed down to roller slides.
To control their motion, a cage is used to hold the rollers. The cage can be made from either metal or plastic. The cage prevents contact between the rollers; thus, friction is reduced, and premature wear of the rollers is avoided.
Types of Roller Slides
The types of roller slides include:
Crossed Roller Slide
Crossed roller slides utilize rollers to support the load, unlike recirculating linear guides that use balls to support the load. In roller slides, there are grooves between two guides that are parallel to each other. The grooves are V-shaped, and their arrangement is in a crisscross pattern. The roller slide consists of a resin or metal cage that holds the rollers. The rollers are turned at a 90-degree angle relative to the ones next to them.
Crossed roller slides provide high rigidity and high load capacities the same way recirculating guides do, but in both areas, they are outperformed by crossed roller slides.
Crossed roller slides consist of rollers that have line contact with the raceways. This is the opposite of the point contact experience of balls and why crossed roller slides are better than recirculating linear guides.
In crossed roller slides, there is an increased contact area for the rollers. This, in turn, will provide higher stiffness for the crossed roller designs and reduce deflection under load. Roller slides are, however, less forgiving of imprecise mounting surfaces.
For this reason, crossed linear slides are well suited for use in linear stages. This is because stages have characteristics of precise mounting surfaces and extremely flat and accurate travel.
Crossed roller slides are well suited for high precision linear-motion applications with relatively short and linear movements requiring smooth motion.
Linear Needle Roller Slides
These roller slides consist of a V-shaped bearing retainer containing rows of needle rollers. The mounting of the needle roller cage is made between two machine rails. One machine rail has a concave V shape (the M rail), and the other (the V rail) has a convex V shape.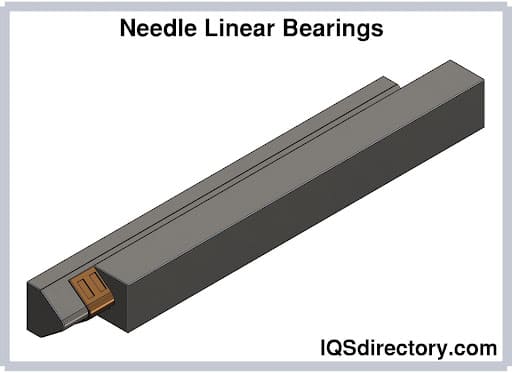 Linear needle roller slides exhibit high weight-carrying capacities as well as high stiffness. They also offer precise movement, just like crossed roller slides. These slides are also known as precision rail guides.
Applications and Benefits of Roller Slides
The applications and benefits of roller slides include:
Applications of Roller Slides
Lab and medical equipment
Machine tools
Semiconductor and electronics manufacturing
Vacuum environments and clean rooms
Material handling
Vision inspection
Automation and robotics machinery
Benefits of Roller Slides
Roller slides have the advantage of their extremely smooth motion. This is because roller slides do not have a recirculating motion. Consequently, they do not suffer from the pulsations experienced by recirculating bearings since the rollers have a chance of entering and leaving the load zone.
Noise generation is greatly reduced by the lack of impacts caused by the recirculating elements. This makes roller slides quieter than recirculating bearings. In addition, the dynamic and static coefficients of friction for roller slides can be very much the same, minimizing the effects of stiction.
For this reason, roller slides have become well suited for applications requiring minute motions, like microscopes and cameras. Roller slides are easy to operate and less expensive. Roller slides bring more accuracy, load bearing capacity, and rigidity for linear motion. They can also support tilting loads or radial forces and moment loads. They are extremely durable and can last up to 150 million cycles.
Drawbacks of Roller Slides
Roller slides have limited travel due to their non-recirculating design. Their travel is limited to typically 1 meter. In addition, the assembly of the crossed roller slide must be two times as long as the maximum stroke since the movement of the two guides is in opposite directions of each other.
Choosing the Proper Roller Slide Supplier
To ensure you have the most constructive outcome when purchasing roller slides from a roller slide supplier, it is important to compare several companies using our directory of roller slide suppliers. Each roller slide supplier has a business profile page highlighting their areas of experience and capabilities, along with a contact form to directly communicate with the supplier for more information or request a quote. Review each roller slide business website using our proprietary website previewer to quickly learn what each company specializes in. Then, use our simple RFQ form to contact multiple roller slide companies with the same form.
Roller Slides Informational Video