A linear rail is a device used for moving items through a production process with great precision and little friction. Some areas of use include creating, packing, and distributing products. A linear rail system sustains the movement and load of a piece of equipment in a horizontal or vertical direction. Read More…
Linear Rails
What Is a Linear Rail?
This type of mechanical equipment can be referred to using different names such as linear guides, linear guideways, and linear guiding systems. A linear rail transports weights along a predetermined vertical or horizontal course with the production of the least amount of friction or resistance. Tough, corrosion-resistant, and high-strength galvanized steel is normally used to make linear guide rails.
How Linear Rails Function
Linear rails guide and support moving components as they make a reciprocating linear motion in a specific direction. Linear rails can be classified based on their friction qualities. The rolling steel ball can be used to meet the requirements of moving parts such as tool holders and carriages of machine tools. This is due to its low friction coefficient, high sensitivity, and sustainability for high-speed movement.
Types of Linear Rails
Linear rails are found in different combinations that serve a specific application, including different types of bearings, bearing contacts, race profiles, precision controls, and recirculating or non-recirculating designs. They are always designed to fit their applications. Some of the most commonly used linear rails include dovetail rails and box way rails.
Dovetail Rails
Dovetail rails are linear rails with simple surface bearings that depend on lubrication and a low coefficient of friction. Their name is derived from the dovetail-shaped protrusion that fits into identical negative geometry. This protrusion is usually located on the stationary foundation or rail where the carriage's negative is built.
The whole contained setup is referred to as a dovetail table. These types of rails are tough, having the ability to endure lateral and radial loads. Dovetail rails are commonly utilized with large machine tools such as shapers, milling machines, and lathes.
Box Way Rails
Like dovetail rails, these rails are also simple surface bearings. However, instead of having a dovetail-shaped protrusion, they feature a square gib with T-shaped flanges at the top.
The box way rails contain a higher projected surface area in contact between the carriage and the rail. Due to this area, they can handle stronger loads than dovetail rails.
Sleeve-Bearing Slides
Sleeve-bearing slides utilize cylindrical surfaces instead of a matching tongue and groove shape. These types of surfaces are referred to as bushings and journals. The journal is a lengthy shaft that functions as the guide rail of the base, whereas the bushing is a hollow cylinder built into the carriage.
The advantages of sleeve-bearing slides include their ease of use and the capacity to handle weights applied in any direction. However, sleeve-bearing slides are not as sturdy as box way rails and dovetail rails. Due to this fact, they are only suitable for light to medium weight applications.
Linear Ball Bushings
Linear ball bushings refer to a type of linear rails analogous to sleeve-bearing slides. They use ball bearings instead of simple bushings. Recirculating ball bearings are found in the bushings.
The process of recirculation might be radial or tangential. The return path in tangential recirculation is positioned from the tangent or side to the shaft, allowing for a more compact design.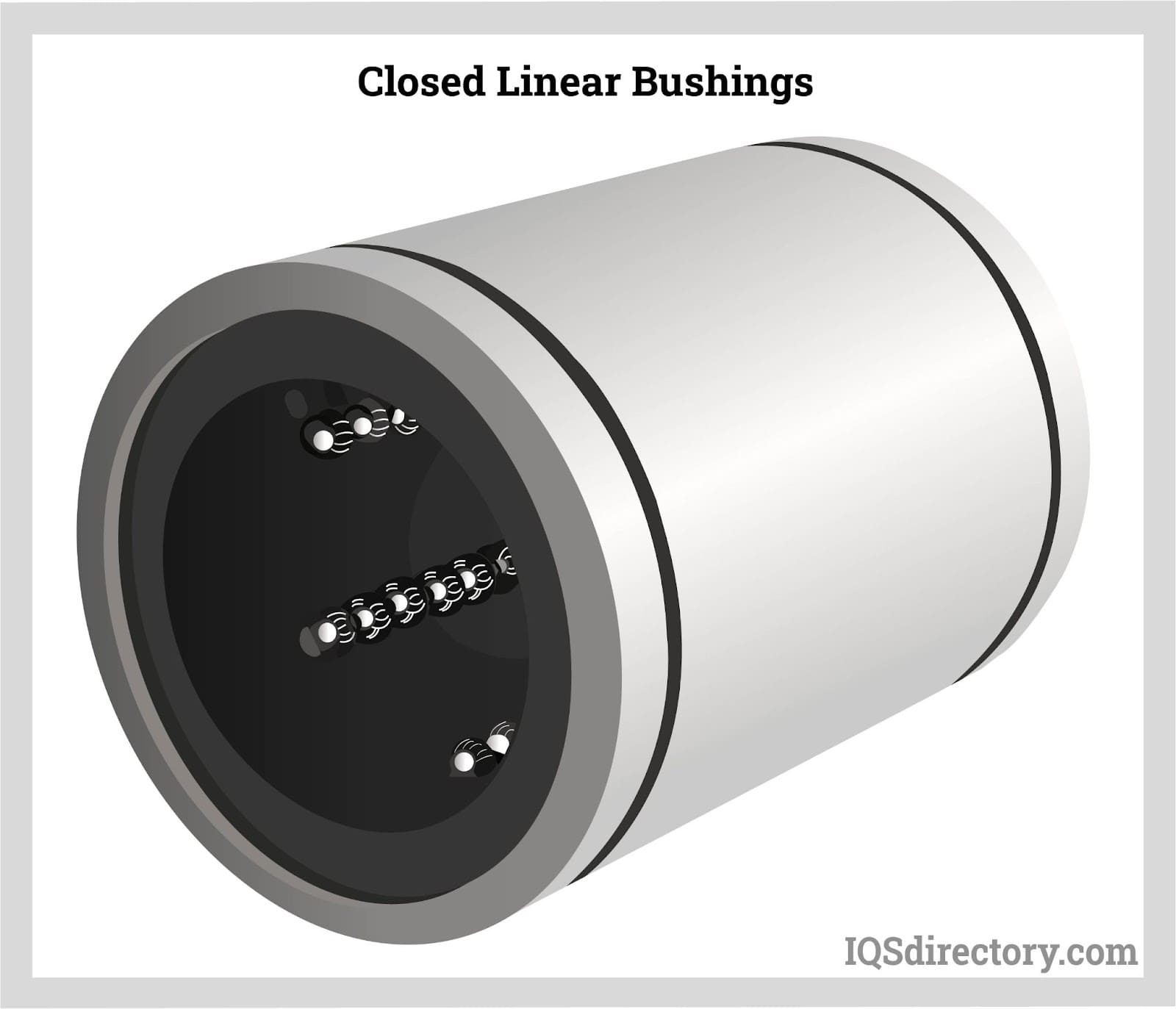 However, the return path in radial recirculation is perpendicular to the axis. This return path setup allows for the installation of more weight-bearing rows, resulting in higher load capabilities. Bushings are also grouped using their form. These groups are closed bushings and open bushings.
Applications and Uses of Linear Rails
Linear rails are used for gantry robots, overhead transport systems, Cartesian robots, and robot transport units. In overhead transport systems, linear rails have an excellent use for guidance as the weights are centered below the rail. Heavy weights are conveyed due to the linear rails' high load capacity. The rigidity of linear rails serves to stiffen the contained system.
Choosing the Right Linear Rail Supplier
To ensure you have the most beneficial outcome when purchasing linear rails from a linear rail supplier, it is important to compare several companies using our directory of linear rail suppliers. Each linear rail supplier has a business profile page illustrating their areas of experience and capabilities, along with a contact form to directly communicate with the supplier for more information or request a quote. Review each linear rail business website using our proprietary website previewer to quickly learn what each company specializes in. Then, use our simple RFQ form to contact multiple linear rail companies with the same form.
Linear Rails Informational Video