A linear slide rail system is made to sustain a piece of equipment's movement and load linearly, whether vertically or horizontally. It allows one to move objects easily and safely through production or packaging. It is a simple piece of mechanical equipment designed to accomplish a very simple job well. Using linear slide rails is the greatest approach to moving objects through a production process with extreme precision and with as little friction as possible for a company involved with the production, packing, and distribution of goods. Read More…
Linear Slide Rails
A linear slide rail is a type of bearing mechanism that is designed to move freely in a single direction. A linear slide can be motorized or powered by hand, depending on the application that it is being used for.
Logical reasoning is the greatest method for defining and sizing linear railways. One should start by defining the application's most crucial parameters in explicit terms. Then, depending on these requirements, one must reduce their options before using the crucial factors to make the best decision.
The choice includes the rails' profile, which is often square or round. Because the saddle may move horizontally, vertically, along a wall mount, or even inverted, it is important to consider the type of bearings, such as cantilever or saddle slides, as well as the stroke, load, speed, duty cycle, mounting area, and of course, the mounting orientation.
Types of Linear Slide Rails
Crossed Roller Rails
This type of slide rail uses rollers positioned 45° and 135° apart from the horizontal. The rollers can be arranged in several rows, each row perpendicular to the others, or a row with 90° alternate orientations. This kind has a higher load capacity than comparable-sized ball rails due to the larger contact surface of roller bearings.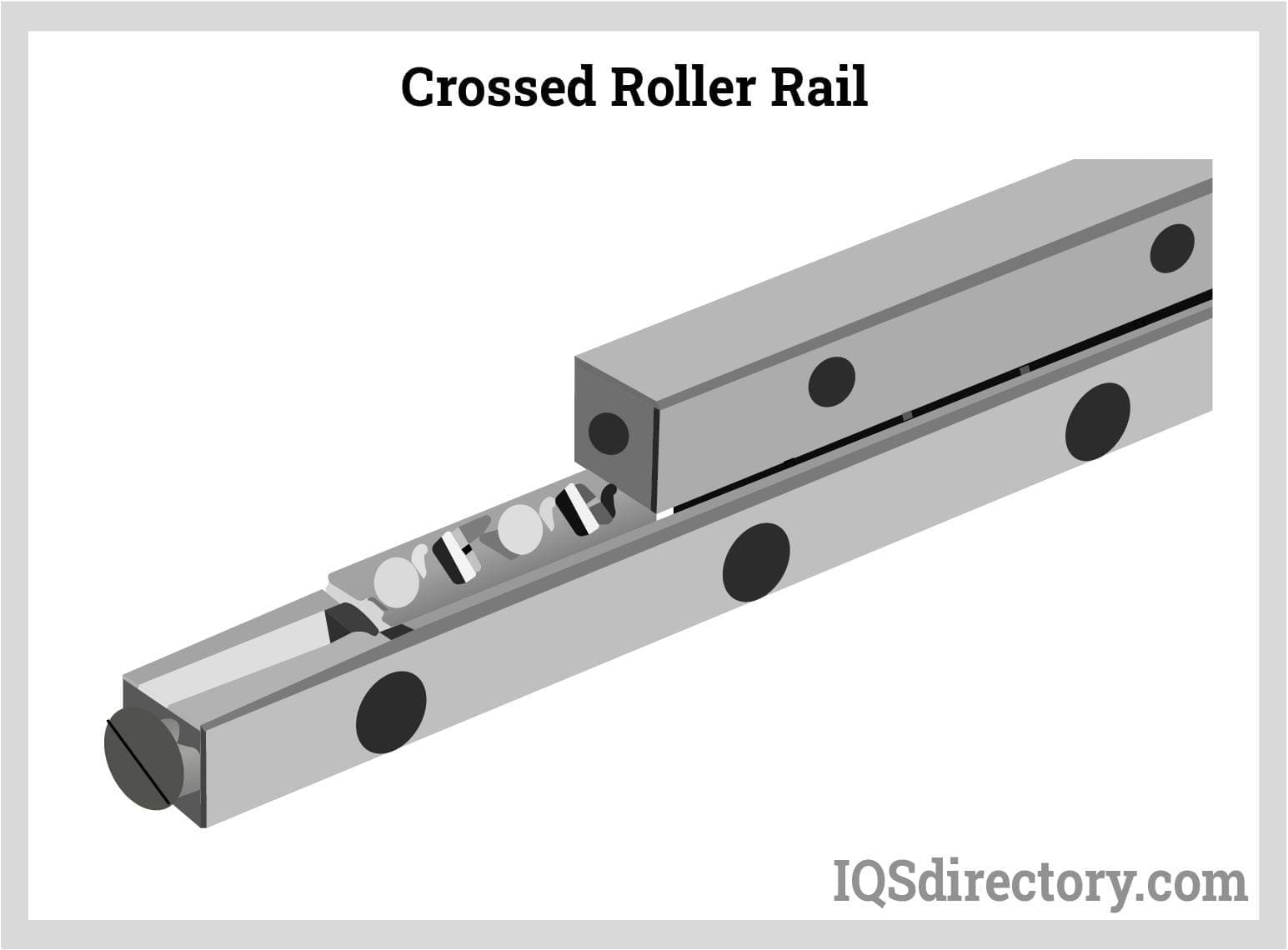 Dovetail Slide Rails
These linear slide rails depend on lubrication and have a low coefficient of friction. The protrusion is typically permanently on the foundation or rail, while the carriage's negative is integrated. This configuration is referred to as a dovetail table. Dovetail slide rails are robust and can withstand both radial and lateral loads.
Sleeve Bearing Slide Rails
This type does not use a matching tongue and groove shape but cylindrical surfaces. These surfaces are referred to as bushings and journals. The journal is a long shaft that acts as the base's guide rail, whereas the bushing is a hollow cylinder integrated into the carriage. The usage of sleeve-bearing slides has several benefits, including simplicity of operation and the ability to support weights applied in any direction. However, they are only appropriate for light to medium-weight applications since they are less durable than dovetail and boxway slides.
Boxway Slide Rails
Boxway slide rails are plain surface bearings. They have a square gib featuring T-shaped flanges at the top rather than a protrusion in the shape of a dovetail. They can support heavier weights than dovetail rails because of the larger projected surface area in touch between the carriage and the rail.
Linear Ball Slide Rails
The linear ball slide rail is one of the most common varieties of rolling element slides. Like linear ball bushings, linear ball slide rails employ a runner block rather than bushings. Inside the runner block, a return path for recirculation can also be constructed. In terms of strength and flexibility, linear ball rails outperform linear bushings. Since the races are held right on the base, there is guide rail deviation. The racing profiles can also be created in several ways to favor either load capacity or minimalism.
Maintaining a Linear Slide Rail
Every moving part system eventually needs to be replaced. Under-lubricated guides may experience increased wear, which compromises functionality and causes early failure. Effective lubrication will rely on the caliber of the lubricant used, and lubrication and the properties of the lubrication product utilized make all the difference.
Some guides have automated lubrication systems, although they can be expensive and difficult. Simpler, integrated mechanical elements are added to the bearing slider to provide maintenance-free bearings, which store and supply lubricant.
The simplest method to prevent issues from worsening is to look and listen. A change in the sound the system makes may indicate that it needs more lubrication, that the guide rails are out of alignment, or that the bearing blocks are being loaded unevenly. The seals, which keep the lubricant inside and debris outside, are typically simple to check and replace. It also makes life much simpler when you use components that are simple to replace, such as interchangeable linear rails and bearings, and ball nuts with adjustable preload.
Benefits of Linear Slide Rails
The runner moves quickly due to the machine tool's protection provided by the rolling friction operation mode and high-precision processing.
Thanks to the accuracy and stability of high-speed operation, processing efficiency and precision are significantly increased.
Depending on the exact parameters of the design, machines can be placed in any configuration.
Assembly is simple and quick; with a little practice, it can be completed quickly and to a high standard.
Due to linear slide rail, the material and the production process have attained a safe, controlled range resulting in extreme machining accuracy.
Choosing the Proper Linear Slide Rail Manufacturer
To ensure you have the most productive outcome when purchasing linear slide rails from a linear slide rail manufacturer, it is important to compare several companies using our directory of linear slide rail manufacturers. Each linear slide rail manufacturer has a business profile page highlighting their areas of experience and capabilities, along with a contact form to directly communicate with the manufacturer for more information or request a quote. Review each linear slide rail business website using our patented website previewer to quickly learn what each company specializes in. Then, use our simple RFQ form to contact multiple linear slide rail companies with the same form.
Linear Slide Rails Informational Video