A drawer slide is a linear slide used to mobilize drawers for easier access. Drawer slides are capable of compaction and extension, allowing the drawer to open and close easily. Drawer slides can also be used to ensure that the drawer cannot be accidentally disassembled from its housing. Read More…
Drawer Slides
Drawer slides are a specific type of linear slide used to mobilize drawers for easier access. Capable of compaction and extension, drawer slides allow drawers to open and close with ease.
What Is a Drawer Slide?
These constructions have two main components: a stationary linear base and a moving carriage. The linear base is a flat surface that allows the linear bearings to move in a controlled, precise motion. The moving carriage is what attains mobility through the linear bearings.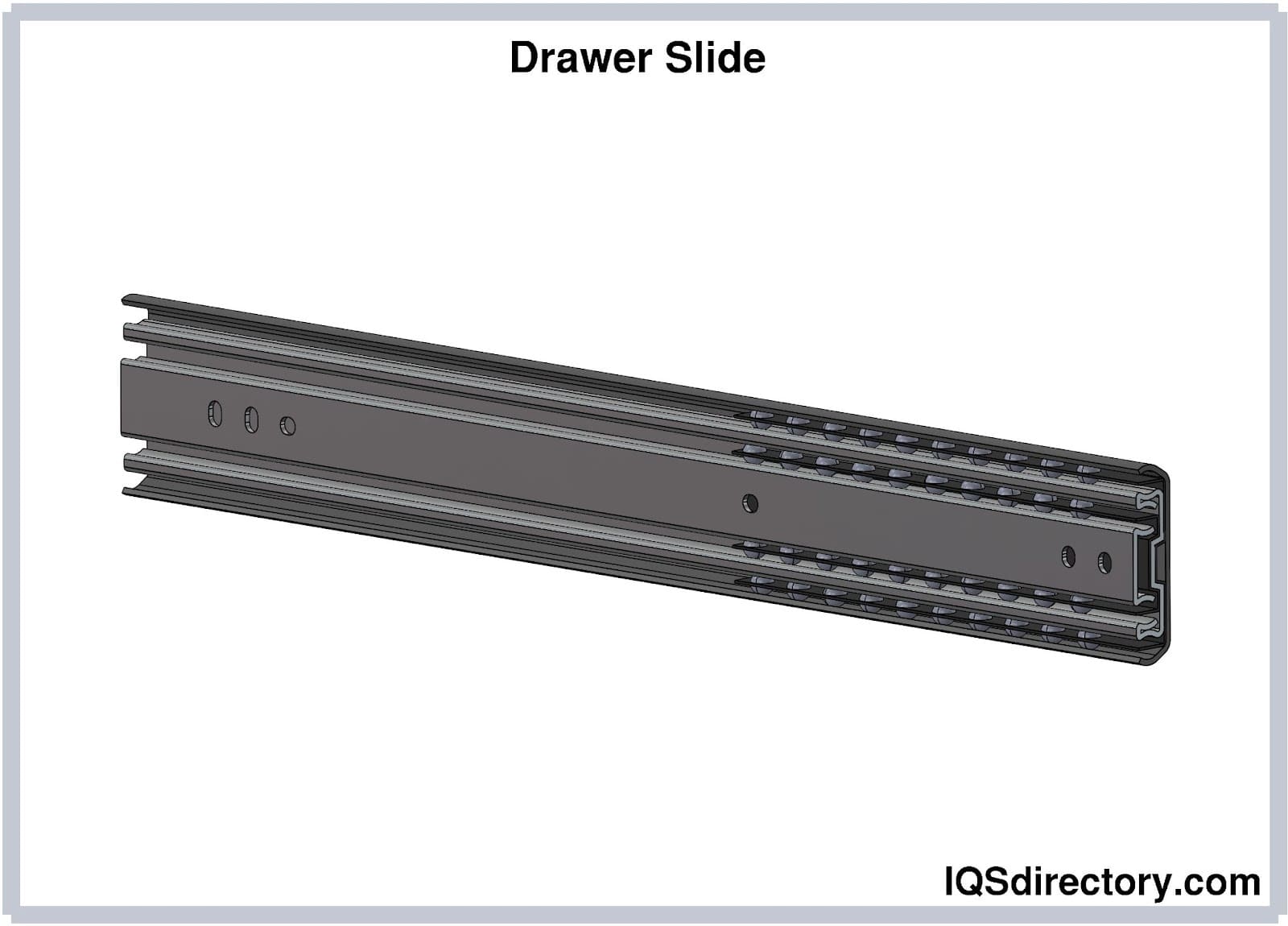 How Drawer Slides Function
Drawer slides function by reducing friction so that drawers can slide in and out of the furniture in which they are installed. Installing a drawer directly into furniture is not ideal as this will create friction that eventually damages the drawer and the furniture.
Most drawer slides have a metal housing unit that contains a set of small balls. These balls are known as ball bearing drawer slides. They allow proper movement as the drawer glides across these balls.
Types of Drawer Slides
There are various types of drawer slides, each based on use, different features, and cost.
Ball Bearing Drawer Slides
These are the most common types of drawer slides as they are less expensive and easy to install. Ball bearing drawer slides are made with steel ball bearings that roll in a thin track. This action allows the drawer on which they are mounted to move in and out smoothly with less friction.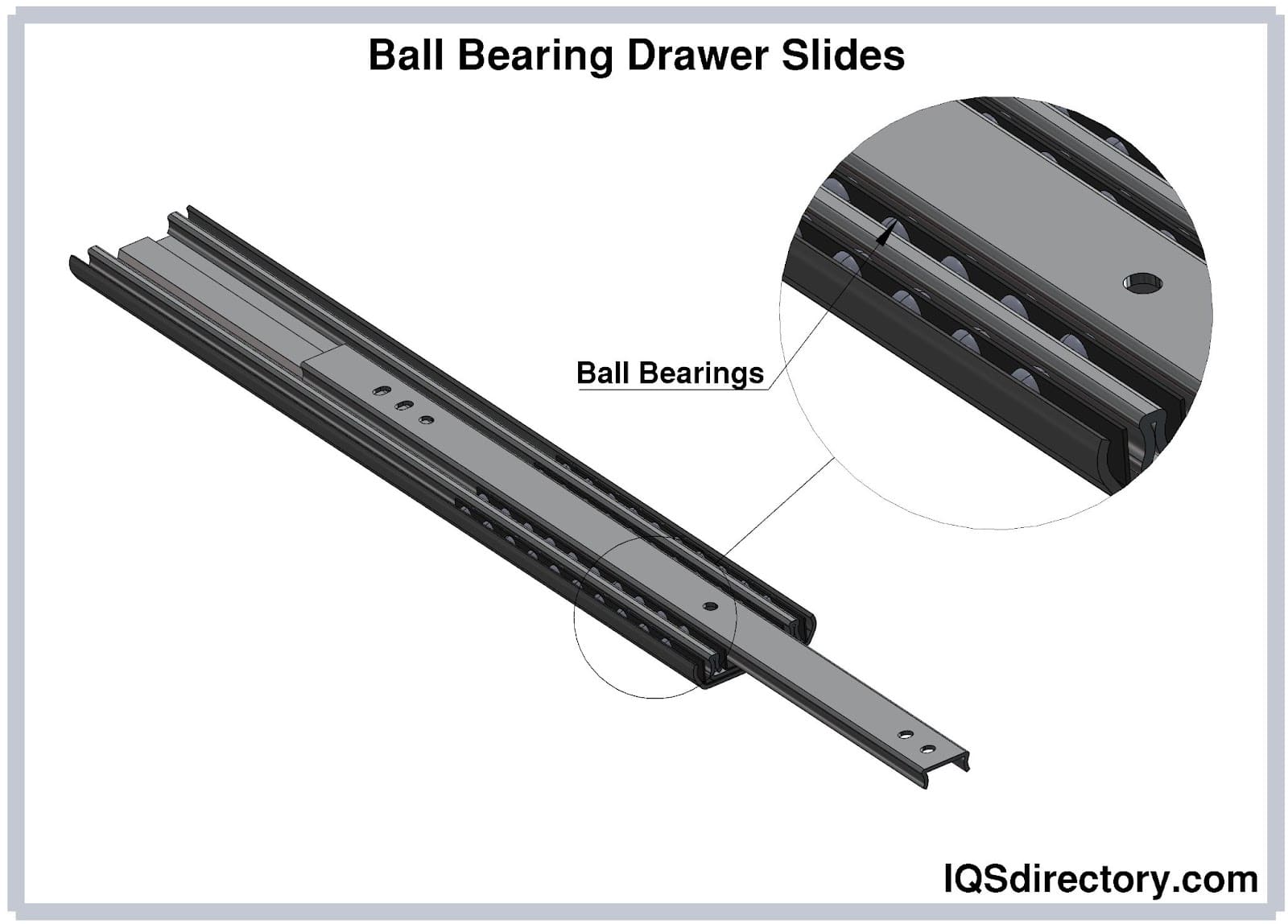 Ball bearing drawer slides are easy to install, but they also require great precision when building the drawer box. For example, if a drawer is too big or small, the drawer slides will not be able to roll properly.
These drawer slides separate into two pieces, one for the side of the drawer box and one for the inside of the cabinet. For the two halves to be released for easier installation, there is a small plastic tab in the track.
The ball bearing drawer slides have advantages as they can hold a lot of weight and are inexpensive. The cons include that steel balls are not suitable for dirty or dusty environments. Other cons include the precision required for the drawer box dimensions and the slides being visible when the drawer is open.
Under-mount Drawer Slides
These slides are mounted to the bottom or side of a cabinet with a sliding track and an L-shaped bracket. A special clip is the only hardware attached to the drawer box on the underside to lock it onto the track. The under-mount drawer slides are not visible when you open the drawer, giving a cabinet a sleek look.
The undermount drawer slides make it much easier to remove the drawer when needed just by disengaging the clips underneath and then lifting off the drawer box. These slides also have more adjustability, making it easier to fine-tune the drawer front position.
Dials on the clips allow one to move the drawer box in all intended directions to achieve the perfect reveal. The need to build the drawer box around the exact specifications listed in the instructions is one of the cons of under-mount drawer slides. In addition, undermount drawer slides are more expensive than other styles and can only use one type of drawer box.
Center Mount Drawer Slides
Center mount drawer slides contain a rail in the middle of the drawer box. Rollers are also on the sides of the cabinet opening to keep the drawer aligned. Center mount drawer slides are easy to install and appear hidden when the drawer is opened. However, these slides are not suitable for large weight capacities.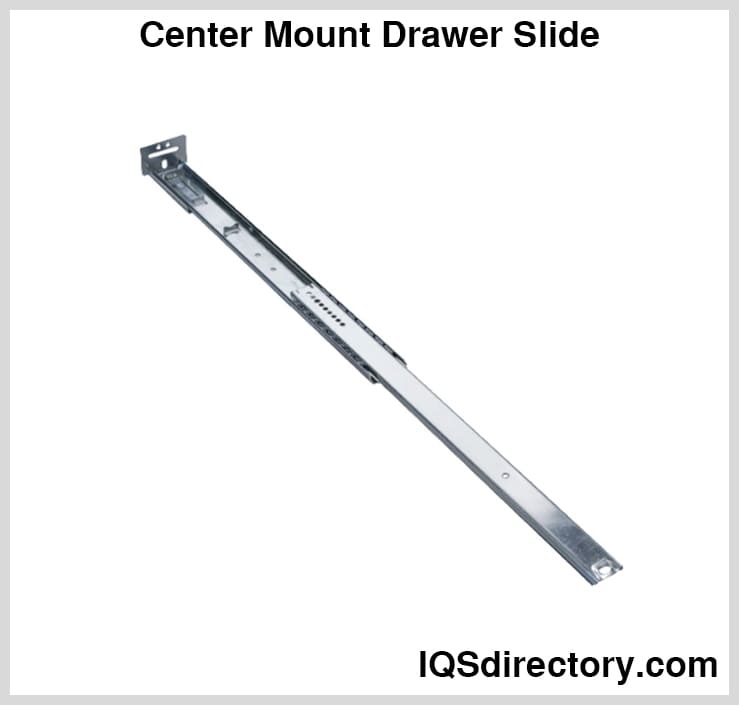 Applications and Uses of Drawer Slides
Drawer slides are mostly used in the furniture industry, but some areas of application include industrial manufacturing, fire and rescue industries, storage and racking, and equipment and tool mounting. Drawer slides used for industries can be made using metals to provide heavy-duty, load-bearing capabilities.
Choosing the Right Drawer Slide Supplier
To make sure you have the most positive outcome when purchasing drawer slides from a drawer slide supplier, it is important to compare at least four suppliers using our list of draw slide companies. Each drawer slide supplier has a business profile page that highlights their areas of experience and capabilities and a contact form to directly communicate with the supplier for more information or request a quote. Review each drawer slide company website using our proprietary website previewer to get an idea of what each business specializes in, and then use our simple RFQ form to contact multiple drawer slide companies with the same message.
Drawer Slides Informational Video